FREIGHT OFFERS REPORT EUROPE
After two years under the coronavirus pandemic restrictions, road freight transport is heading towards a "normalization" of the sector in 2022. A process that, for the moment, is being successfully completed, according to the analysis of the activity in Europe on the Teleroute platform.

2022 has started with exceptional numbers, far above those of the two previous ones. In this first quarter, more than 16.5 million freight offers to or from Europe have been exceeded one and a half million more than in this same period of 2021. The numbers are much better than those recorded in 2020, when just over 11 million cargo offers were booked.
This then means 10% more cargo offers than in the January to March 2021 period, representing an average of more than 180,000 offers per day, with particularly good months, such as March, when more than 6.3 million offers were registered.
A promising start of the year
We must put these data into context, as the beginning of this new year has also been marked by events such as the conflict in Ukraine and some of its consequences, including the increase in fuel prices and the cost of living in general. Despite this, the trend has continued to be upward and, as we can see in the graph below, the curve looks promising good for the spring season.
Therefore, growth was generalized across the board, with exports (+8%) and imports (+8%) posting good records, but with more significant growth in terms of domestic freight offers (to and from the same country), up by 14%.
Export cargo offers reached an 8% increase when compared with the first quarter of 2021. This is a result of the growth seen in mostly European carriers' major markets.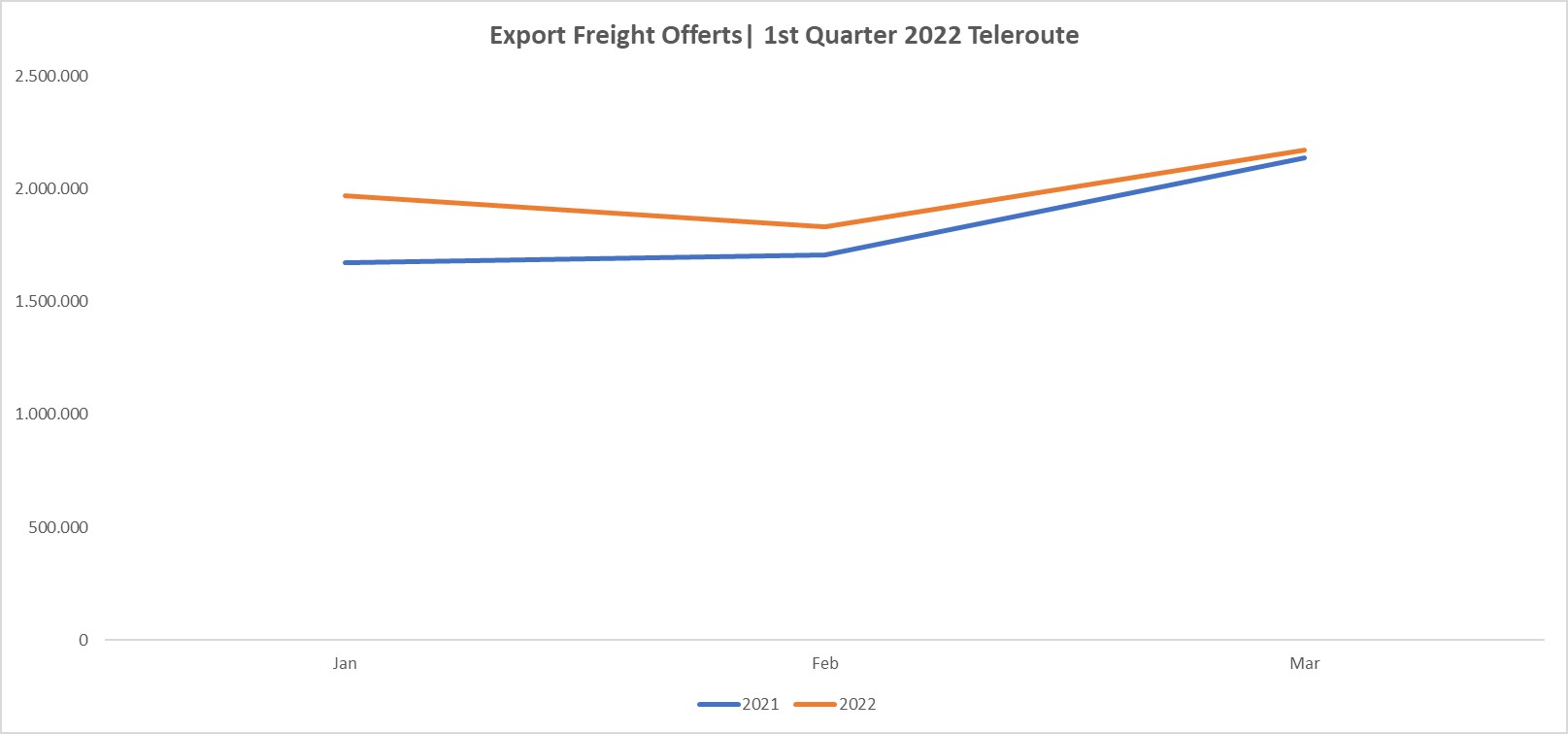 Romania is the main country from which freight offers depart on the Teleroute platform with 27% of the total numbers. A destination from which, in this first quarter, 1.3 million loads departed, 15% more than in the same period last year.
The biggest rise within the main exporting countries has been recorded in Italy, which has peaked at 400 thousand cargo offers in these three months, accounting for a 50% increase compared to 2021. This means overtaking countries such as Spain, despite its formidable growth (+43%) and placing it very close to the Netherlands, where the freight offers have slightly declined.
It is also worth mentioning the emergence of Austria, which has registered more than 160 thousand freight offers, growing by 52% compared to 2021.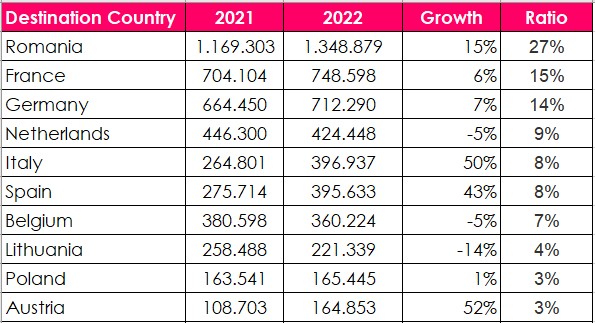 Import offers also grew in the first quarter, reaching 6 million, up by 8%.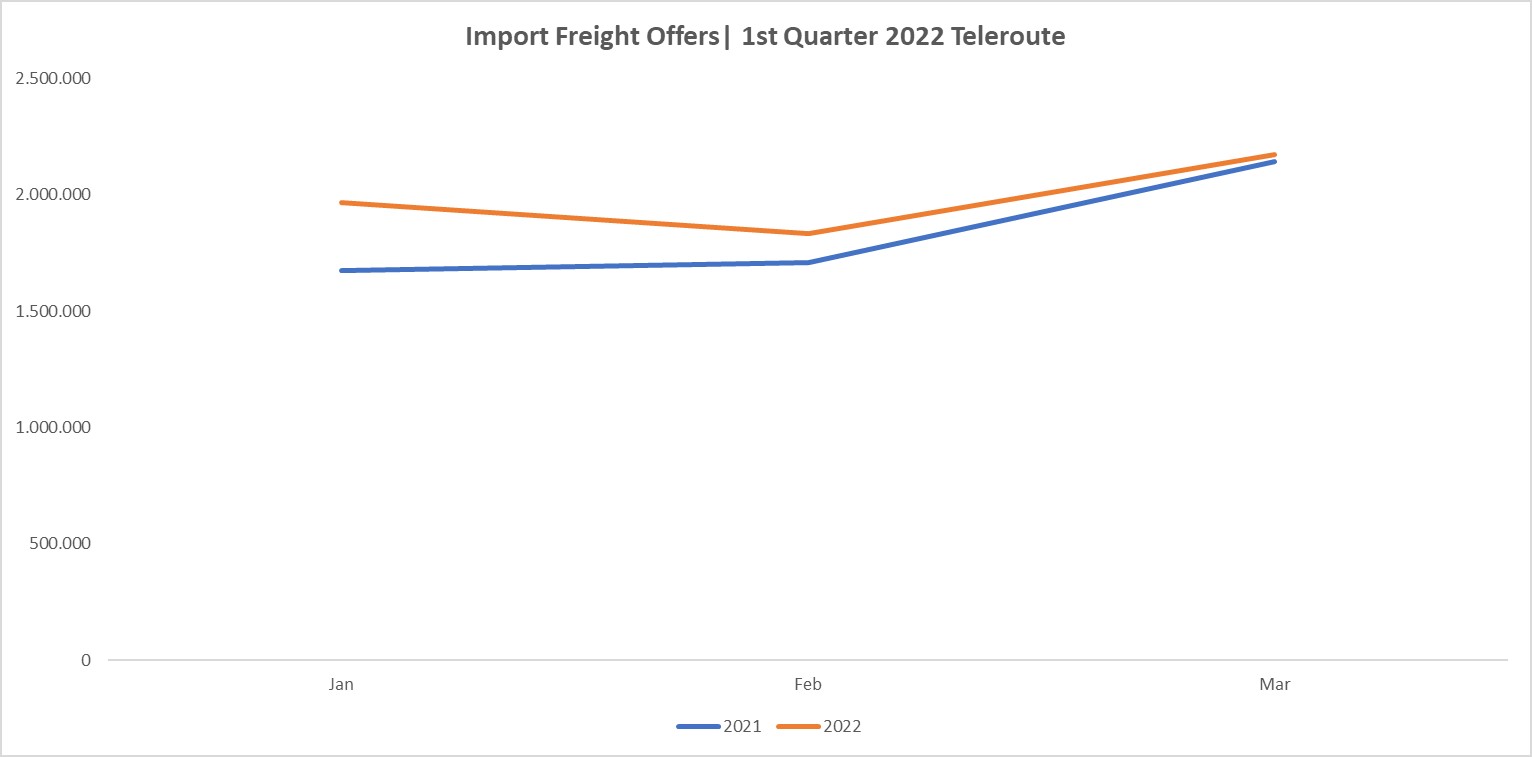 In this case, the main markets are Germany, France, Italy, Spain, and Romania, accounting for 71% of the total number of freight offers to Europe in Teleroute freight exchange. Thus, our platform offers more and more return alternatives for drivers who are based in these countries.
The strongest growth was recorded in France and Spain, with 41% and 39% more respectively. The increase in Austria, which recorded 100,000 more loads than in 2021(+56) is worth mentioning once again.
Finally, let's look at the analysis of domestic transport, which has grown the most (+14%) and accounts for an increasing percentage of the freight offers published on Teleroute.
In this regard, freight offers from and to the same country now exceed 4.5 million compared to less than 4 million a year ago. In that sense, March was particularly good, with more than two million freight offers confirming an exponential increase that we will see if it consolidates definitively in the spring.

This growth has been notorious in specific cases such as Italy and Germany, outstanding with 52% and 45% respectively. We also have to mention France, where the sum of freight offers for these first three months of the year has exceeded one million, representing 15% more than the same period in 2021.
This data show not only the significant percentage of domestic freight offers on our platform, but also that there are more and more of them, giving drivers a wide range of possibilities both within and outside their country of origin. There are many carriers who prefer to work within their own country. And, with Teleroute's tool, they have thousands of offers available every day.